You're not alone if you seek the relaxing benefits of neutral tones, clean lines, and little clutter in your living room or bedroom.
Modern-day minimalism is noted for its relaxing aesthetic, which may feature blonde wood, cultivated flora, and geometric shapes, with heavy inspirations from Japanese wabi-sabi and Scandinavian style. It is both stress-relieving and visually appealing, drawing a wide spectrum of fans.
Minimalist houses strive to instil a sense of zen, as well as ease and quiet. The furniture utilised to create these healing places is often calm and elegant, with clean lines and natural materials.
We've compiled a list of the Top 10 Modern Minimalist Furniture Store in Malaysia 2022, with high-quality options to suit your needs.
Notti Couch is a brand that produces a variety of modern and traditional sofa types, including the Minimalist style. In its collections, the company offers a wide choice of modern and traditional design couches. Notti-Couch thinks that everyone deserves to own a high-quality sofa at a reasonable price. As a result, this firm consistently strives to provide the greatest products and services to its clients. Notti-Sofa offers a comfortable purchase experience via the website or by contacting customer care for additional assistance.
Since 2015, Tekkashop has been sourcing commercial and residential furniture in Malaysia. Tekkashop provides the most convenient shopping experience via online platforms such as the website, Lazada, and Shopee. Tekkashop provides modern office and home furniture that ideally represents the uniquity, modern, and cosmopolitan preferences expected by the people, while adhering to its concept of delivering high-quality items at a fair price for clients. Every piece is created and built with the highest quality materials to guarantee that customers have the greatest possible experience while using the furniture.
Address: Lot 1-03, I-Residence, Persiaran Surian Seksyen 4, Kota Damansara, 47810 Petaling Jaya, Selangor
Contact:

03-78903019

Operating Hours: 10am - 6pm Mon-Fri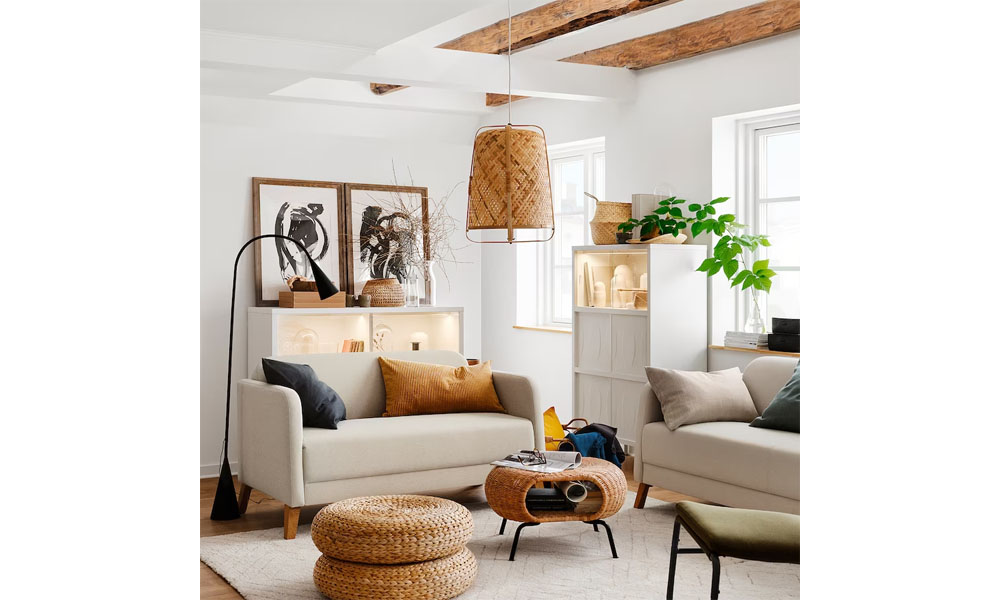 Everyone visits this famed Swedish home and lifestyle company for their meatballs, but their main focus has always been their beautiful furnishings. They offer a fairly comprehensive internet store where you can purchase anything from silverware to kitchens. They also feature helpful instructions and tastefully decorated images that you can use as inspiration for your own house.
Ruma is a Malay term that means "house," and this native company is unquestionably the best place to buy for a minimalist home. Visit their physical store in Petaling Jaya's Atria Shopping Gallery, or purchase online. Ruma specialises on elegant contemporary and Minimalist furniture, allowing you to replicate that Pinterest-perfect Minimalist simple house. The best aspect is that their pricing are quite reasonable.
Address:

(Atria Shopping Gallery) Ground Floor, G51-G53A Jalan SS 22/23, Damansara Jaya, 47400, Petaling Jaya, Selangor DE
(MesaMall, Nilai) First Floor, F03 & F03A, Persiaran Ilmu, Bandar Baru Nilai, 71800 Nilai, Negeri Sembilan.

Contact:

(Atria Shopping Gallery) 018-3514811
(MesaMall, Nilai) 018-9854811

Operating Hours: 10am - 9pm Daily
You might easily mistake Joy for a Scandinavian firm. The local furniture maker is all about genuine, well-thought-out modern design. Everything from minimalist bed frames and sofas to industrial statement pieces for large and small areas is available. Joy has showrooms throughout the Klang Valley if you wish to touch and feel the objects.
Address:

(DAMANSARA UTAMA) No. 46, Jalan SS21/1 Damansara Utama (Uptown), 47400 Petaling Jaya, Selangor.
(BANGSAR) No. 124 Jalan Maarof, Bukit Bandaraya Bangsar, 59000, Kuala Lumpur.

Contact:

(DAMANSARA UTAMA)

+603 77321477 / WhatsApp +601165451477
(BANGSAR) +603 2201 1504 / WhatsApp +601165451477

Operating Hours: 11am - 8pm Daily
Mumu Living is the place to go if you seek diversity in your life. You'll be spoiled for choice with a large assortment of high-quality home design components such as a sofa, wardrobe, TV cabinet, baby cot, office chair, dining table, and bean bags in Japanese solid wood series, Norwegian series, Scandinavian series, Minimalist series, and more. These will undoubtedly inspire you to build a MUJI house without the use of MUJI items.
Address:

(Next to KWSP) G-01, IDCC Shah Alam,

Jalan Pahat L 15/L Section 15,

40200 Shah Alam, Selangor

Contact: 03 5545 3337 / 016 228 6712
Operating Hours: 10am - 7pm Daily
Taking its cue from the classic Danish word "hygge," which means "cosy and comfy," you can immediately see this store selling contemporary furnishings that will make your minimalist house that much cosier. From lights to throw blankets, pillows, pottery, a couch set, wardrobe cabinet, side table, bar stool and table, bed frame, blind curtain, and more, buying at Hooga guarantees a warm, inviting home that you'll want to be in all year round.
Address:

(1 UTAMA) Lot F140, 1st Floor 1U Shopping Centre, 1, Lebuh Bandar Utama, Bandar Utama, 47800 Petaling Jaya, Selangor
(THE STARLING) Lot S-224 Level 2, The Starling Mall, 6, Jalan SS 21/37, Damansara Utama, 47400 Petaling Jaya, Selangor
(SUNWAY PYRAMID) LG2.57 & LG2.58A, Lower Ground Two, Jalan PJS 11/15, Sunway Pyramid, 46150 Petaling Jaya, Selangor
(MID VALLEY MEGAMALL) Lot S-022, Second Floor, Mid Valley Megamall, Mid Valley City, Lingkaran Syed Putra, 59200 Kuala Lumpur
(PAVILION BUKIT JALIL) Lot 4.02.00, Pusat Bandar, 2, Persiaran Jalil Utama, Bukit Jalil, 57000 Kuala Lumpur, Federal Territory of Kuala Lumpur

Operating Hours: 10am - 10pm Daily
Lancco is the place to go if you love both boho rattan accessories (rugs, baskets, and the like) and mid-century shapes. From beds and dressers to couches and coffee tables, you'll discover a mix of economical and high-end pieces, with further savings in the rug and cushion areas.
Address: no.2, Jln Damai Perdana 6/1A, Bandar Damai Perdana, 56000 Kuala Lumpur, Selangor
Contact: 03-8958 9781
Operating Hours: 11am - 8.30pm Daily
(Source from Natural Signature)
Minimalism should not imply boring and monotonous lines and patterns, but rather well considered lines and patterns. It's one of the key reasons visitors visit Natural Signature for its collection of handcrafted items. The design here is primarily influenced by mid-century and Scandinavian styles. Both are noted for their adaptability and clean style, making them easy to work with regardless of your home's overall design.
Address: 12&13, Jalan Oasis 1, Pusat Perniagaan Oasis, 70200 Seremban, Negeri Sembilan
Contact: 016-8585303
Operating Hours: 8am - 10pm Daily
BoConcept is the place to go for high-end Minimalist-style furniture and home accessories. BoConcept, founded in Herning in 1952, has developed from a tiny company to Denmark's largest worldwide furniture brand, with over 300 outlets in 60 countries, including Malaysia. BoConcept, in collaboration with some of Denmark's most famous designers, enhances spaces with unique ideas that provide joy and inspiration via Danish innovation and workmanship.
Address: Bangsar Shopping Centre, Lot T112-115, 3rd Floor 285 Jalan Maarof, Bukit Bandar Raya 59000 Kuala Lumpur
Contact: +603 2011 0178 / 0637
Operating Hours: 10.30am - 8.30pm Daily
We hope this article, 'Top 10 Modern Minimalist Furniture Store in Malaysia 2022', will give you some ideas for revamping your space. If you're looking for a place to buy home and office furniture, feel free to visit our website or walk into our physical store located in Kota Damansara upon appointment.
Looking for new wardrobes or furniture for your home or interior design project? Check out this amazing furniture website! www.tekkashop.com.my
Contact us to find out more
Customer enquiries:
Phone: +601120641106
Email: admin@tekkashop.com.my
For more stories like this, join our Facebook community on Facebook
Need help with your order? chat with us here
About Author
Xaviera
Xaviera is a freelance content writer specializing in commercial writing, loves travel, and enjoys walking on the beach.
Also on NOTTI-SOFA: