Are you looking for the best couch? Finding the best sofa for your living space, whether it's a versatile sectional sofa, a roomy chaise, or a compact two-seater, is essential to a successful interior scheme. The sofa, as one of the most functional pieces of furniture in the home, can also be the design element that ties the entire living room together, both functionally and stylistically.
After all, as one of the largest pieces of furniture in the living room, the style of sofa you choose can set the tone for the entire space, so finding one that complements your decor is critical.
We've compiled a list of the Top 10 Couch Designs in Malaysia 2022, with high-quality options to suit your needs.
NOTTI NTSF885 Daphne Malaysia Style U-Shaped Velvet Fabric Sofa
A sectional couch is made up of at least two parts that may be linked together in a variety of ways. While most people see one sort of sectional couch — often an L-shaped layout — there are really several distinct types of sectionals. One of the most major advantages of sectional sofas is their flexibility to the layout of your area as well as your family's specific wants and preferences.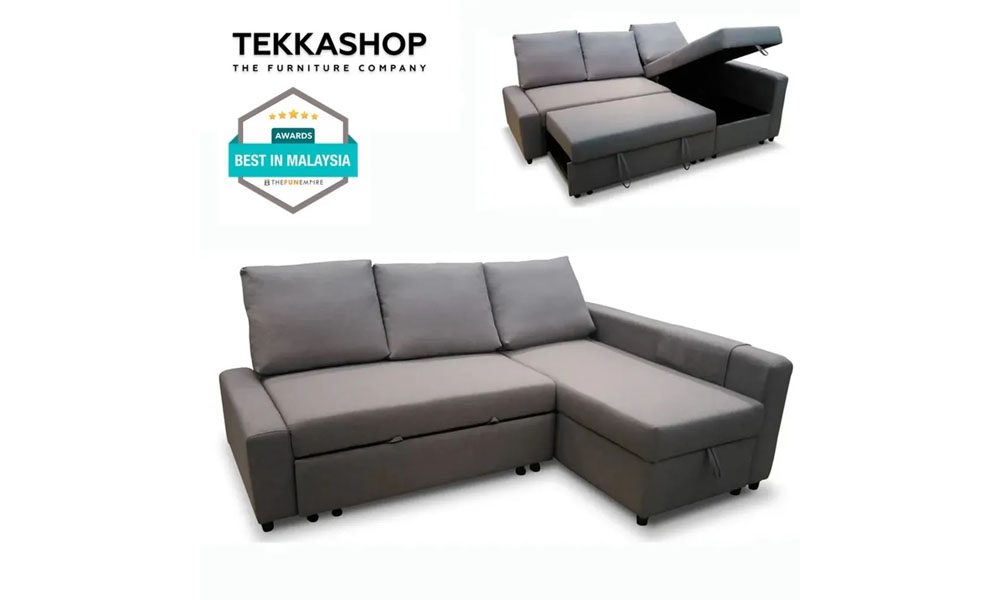 Tekkashop FDSF4750JE Contemporary Style Custom Made L Shaped Storage Sofa
A comfortable couch is ideal for cuddling, sleeping, and movie nights, but it is not ideal for small spaces. Unless, of course, you choose a sofa with storage. Sofas with storage compartments provide extra space for storing throw pillows, blankets, board games, and whatever else fits. A sofa with storage is an excellent way to conceal clutter in plain sight. Storage sectionals with seats that lift up to reveal empty space are available.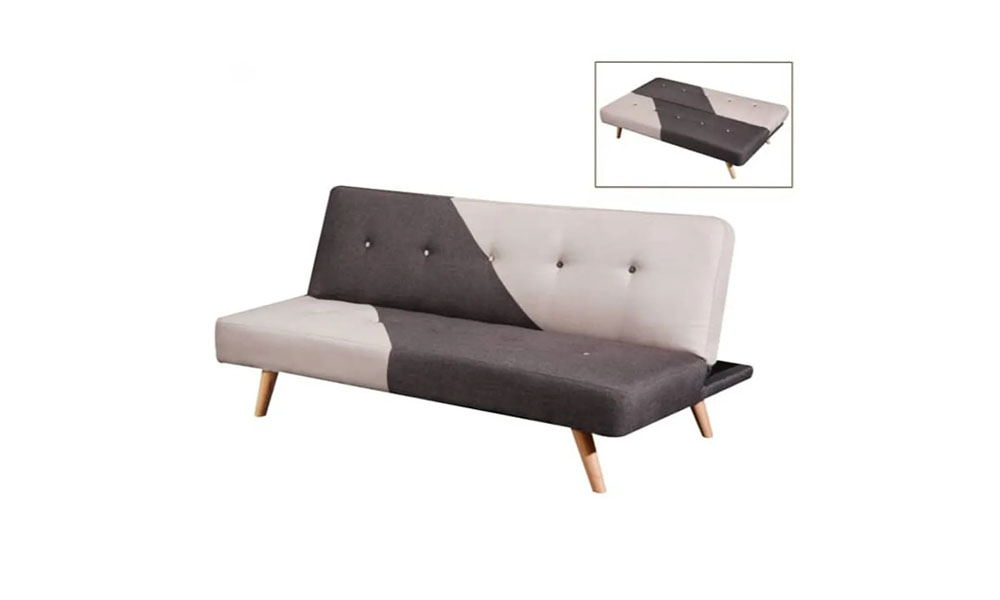 Tekkashop FDSB1606BR Modern Style (5ft/W1660mm) Fabric Seat Sofa Bed with Wooden Leg in Brown
If you're searching for multi-purpose furniture that saves space and makes your life simpler at home, the couch bed is one of the most popular things on the market. A sofa bed is an intelligent and versatile combination of a couch and a bed that quickly gives a comfortable sleeping place. A sofa bed is just a couch that can be turned into a bed. In small apartments, a couch bed might be purchased for daily usage.
Tekkashop FDSF4934 Modern Style 3 Seater Recliner System With Theatre Box L Shaped Sofa
Recliners are couches or chairs that recline by lifting the front and lowering the back. They normally feature a backrest that tilts rearward and a raised footrest in front. Recliners are intended to provide maximum comfort and relaxation. Many recliners are controlled manually by the user. The recliner's position is commonly altered by pressing on the armrests while leaning back on the backrest. The person then adjusts the form and extends the footrest with their body weight. Some recliners include a lever for this, while others are completely manual.
Tabula Rasa TR41001 LC4 Chaise Longue
A chaise, also known as a chaise lounge, is a long, upholstered sofa in the shape of a chair that may be used to raise one's legs up on. The name "chaise" refers to any long, reclining chair in modern French interior design, and the English translation is "long chair." In today's home décor, the chaise is most typically found at the end of a sectional or couch, or as a stand-alone long chair in rare situations. It adds space for families to put their feet up and relax more fully in a half-sitting, half-lying posture, which helps to tie the appearance and feel of a living room together.
NOTTI NTSF838 Edmund Chesterfield Diamond-Tuff Linen Fabric Style 2+3 Seater Sofa
The Chesterfield couch is a highly recognisable furniture style that has been around for almost 300 years, with its high arms and tufted leather upholstery being the most distinctive elements. The Chesterfield has spent the majority of its life within the wood-paneled walls of English gentlemen's clubs, aristocratic homes, and tony businesses (Queen Victoria and Sigmund Freud were both fans), but in recent decades it has become a more widely sought after piece of furniture, being adapted for more modern spaces.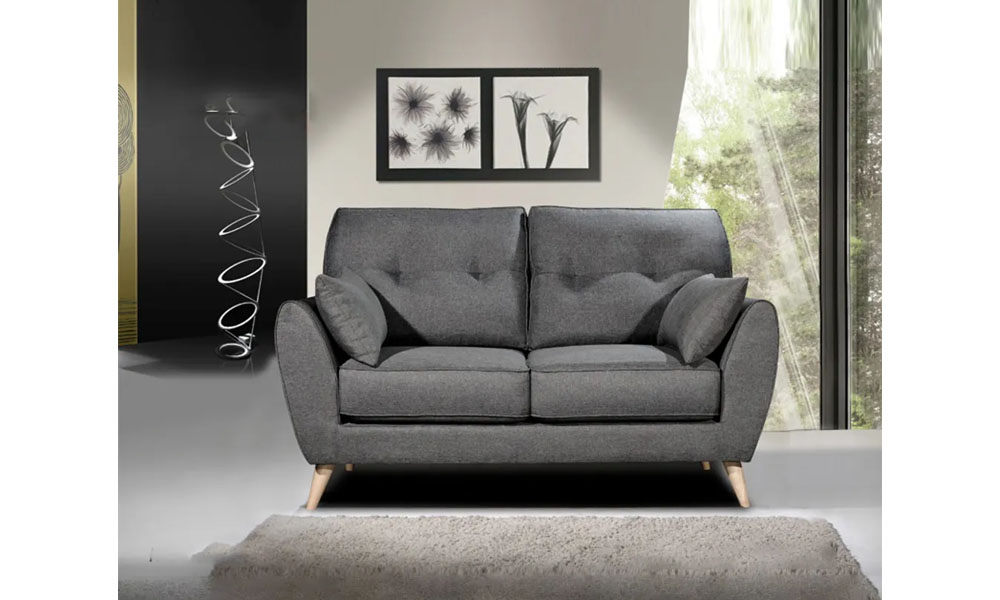 Tekkashop FDSF7000 Scandinavian Style Custom Made 2 Seater Sofa
A loveseat, sometimes known as a courting chair or mini-sofa, is a piece of furniture built for two people. The usual length of a backseat is roughly sixty inches because it is meant to accommodate only two people.
The name indicates that the loveseat is intended for two people who are lovers or in courting. The loveseat was initially created to provide a place for ladies to sit and smooth out their - at the time - heavy gowns, and it was referred to as a little sofa. Later on, people realised that these little sofas might be used for exactly two people in romance, thus they were marketed as loveseats.
Tekkashop AMSF5024T Mid-Modern Style Fabric Seat and High Density Foam 3 Seater Sofa with Solid Wooden Frame in Turquoise
Mid-Century Modern design is minimalistic, with a concentration on clean lines and meaningful features, similar to Scandinavian design. Tapered legs, wood frames, square armrests, and rectangular seat cushions are common features of Mid-Century furniture. This simple shape is frequently used as a focal point in living rooms and works well with a wide range of interior design styles and aesthetics. Mid-Century couches are frequently seen in natural grey tones, but they also look great in bright hues like blue, orange, and green. The Mid-Century design also works well with a variety of materials and upholsteries, and you'll see fabric sofas, leather sofas, and velvet couches that are Mid-Century influenced.
NOTTI NTSF11 Classical 70's American Style PU Leather 2.5 Seater Sofa
The tuxedo couch is claimed to have been developed in the 1920s, and it gets its name from the same site as the tuxedo, Tuxedo Park in New York. The essential criterion for any tuxedo couch is that the arms have the same height as the back. Because the description of this couch is based primarily on the same height of the back and arms, any sofa that meets this criteria is a tuxedo sofa.
Tekkashop FDSF3084DGY Modern Style MDF + LVL + Plywood Frame 3 Seater L Shaped Sofa in Dark Grey
The Lawson sofa, designed for financier Thomas Lawson near the turn of the twentieth century, has clean lines that reflect his desire for a simpler, more comfortable, and modern construction than the ornate Victorian styles of the time. The proportions of the sofa give it a tailored back that is about as high above the seat as the seat is deep, with arms that are much lower than the back. Back and seat cushions are box shaped, with welts around the edges. Three attached back pillows are placed over three seat cushions in the original Lawson design. The arm can be slim and rectangular, or it can have a small roll or "sock" shape. A Lawson sofa will not have oversized or pillowed arms.
We hope this article, 'Top 10 Couch Designs in Malaysia 2022', will give you some ideas for revamping your space. If you're looking for a place to buy home and office furniture, feel free to visit our website or walk into our physical store located in Kota Damansara upon appointment.
Looking for new wardrobes or furniture for your home or interior design project? Check out this amazing furniture website! www.tekkashop.com.my
Contact us to find out more
Customer enquiries:
Phone: +601120641106
Email: admin@tekkashop.com.my
For more stories like this, join our Facebook community on Facebook
Need help with your order? chat with us here
About Author
Xaviera
Xaviera is a freelance content writer specializing in commercial writing, loves travel, and enjoys walking on the beach.
Also on NOTTI-SOFA: